Scroll down to view and choose
A5 DayPlanner with 7 rings 216x140mm
Desk Edition
Australian Office and Schools Suppliers
This seven-ring organiser offers the power to balance your personal and professional life.
The DayPlanner desk edition will become your command centre, giving you the ability to keep track of projects, finances and activities while staying on top and in control of your busiest days.
Flexible and easy to use, this system can be tailored to meet individual needs by rearranging sections, adding additional pages, or deleting those you don't need.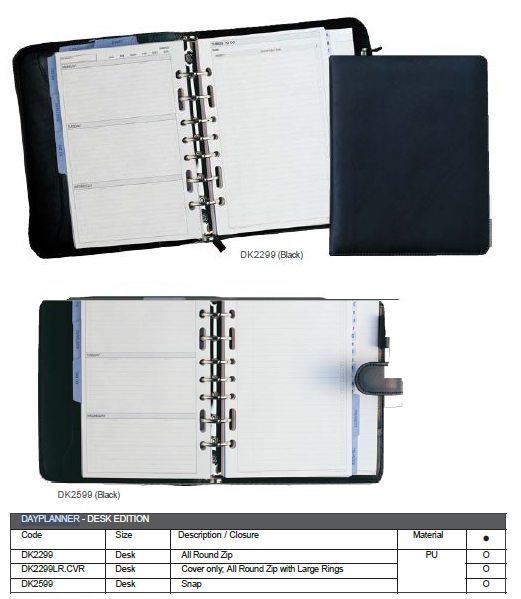 • Diary (undated)
• Resealable sleeve
• Datedmonthly planner
• Business / credit card holder
• Reference information
• Today ruler
• Note / To-do pages and ruled notepad
• A-Z tabs
• Telephone / addresspages
• Finance pages
• Ballpoint pen
Day Per Page (Dated) DK1100
Day Per Page (Undated) DK1015
Day in View (2-page a day) DK1200
Week in View (Dated) DK 1700
Week in View (Undated) DK1016
Month in View DK 1300-19 PR 2300
Month in View (with Tabs) DK1310
Monthly Foldout Planner DK1400
---