This department contains all the heavy Duty Labels we sell from Avery, for more info call 1300659870
Industrial & Security Labels

- Please scroll down

Avery Industrial Grade Labels are engineered and fit for purpose. These labels are designed to take on tough environments and provide a solution where a standard paper label finishes its application use; our Industrial Grade Labels will take over.
Industrial Grade Labels are reliable and durable with an extensive range providing a variety of different labels sizes and shapes for an array of applications.
These labels will assist you with all your identification needs from asset management to creating your own Safety Signs with our free and easy-to-use template software; Avery Design and Print
White Heavy Duty Labels
Durable Heavy Duty White Labels are ideal for indoor and outdoor applications such as inventory, warehouse marking, or the larger sizes are perfect for signage. They are significantly more durable than conventional paper labels due to their strong adhesion and being made from Polyester material.
Oil, dirt and water resistant and tear-proof
Unaffected by temperature variations -20◦C to +80◦C
Permanent adhesive formulated to adhere to a wide variety of surfaces including metal, plastic, painted surfaces, polycarbonate, glass and more
Silver Heavy Duty Labels
Durable Heavy Duty Silver Labels are ideal for indoor and outdoor applications such as inventory, warehouse marking and signage. They are also perfect for asset identification labels for electronic items as they match the metallic finish and for labelling medications, samples and containers for use in refrigerators. They are significantly more durable than conventional paper labels due to their strong adhesion and being made from Polyester material.
Oil, dirt and water resistant and tear-proof
Unaffected by temperature variations -40◦C to +150◦C
Permanent adhesive formulated to adhere to a wide variety of surfaces including metal, plastic, painted surfaces, polycarbonate, glass and more.
Use with Avery Design & Print software and our pre-design templates to easily create your safety signs, notices and asset and I.D. labels quickly.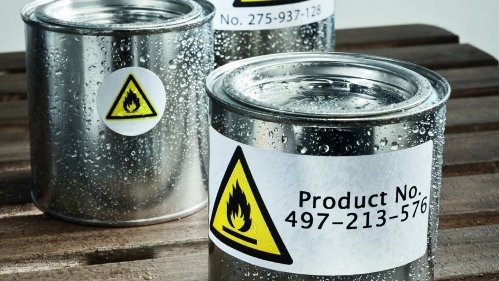 ---